BOOKS
---
For large quantity discounts, call Val at 732-632-9647. Our privacy policy prohibits sharing or selling information about you.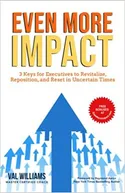 EVEN MORE IMPACT
3 Keys For Executives to Revitalize, Reposition, and Reset in Uncertain Times
---
These uncertain times require even the best leaders to up their game…

As a senior executive, you are already used to the complexity of the job, and the rapidly changing priorities. However, executives today are also faced with additional unprecedented challenges related to the workforce, supply chain, global health, politics and more. The people we lead are often feeling crushed by both the sheer volume of work, and the uncertainty of the times as they try to navigate the unknown.
---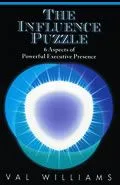 THE INFLUENCE PUZZLE
6 ASPECTS OF POWERFUL EXECUTIVE PRESENCE
---
Through years of coaching top executives and seeing their struggles and successes first hand, Executive Coach, Val Williams, has solved the puzzle of how successful executives actually influence through their presence. The Influence Puzzle presents the underlying principles of influence: how influence works and how to cultivate the underlying executive presence that a senior executive must have to create impact at the top of the house. Through understanding and applying the six pieces of the puzzle in this book, you can have greater impact on people and circumstances more quickly and with less effort. 145 pages.
---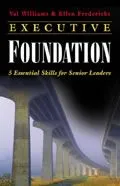 EXECUTIVE FOUNDATION
5 ESSENTIAL SKILLS FOR SENIOR LEADERS
---
Designed for new, seasoned, or aspiring executives to assess and improve the strength of their own Executive Foundation: the essential skills that make a successful senior leader. How satisfied are you with your own Executive Foundation? Take the enclosed Executive Foundation Assessment to find out!
---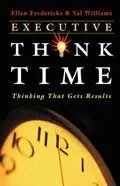 EXECUTIVE THINK TIME
THINKING THAT GETS RESULTS
---
This book helps leaders with two things. First it outlines for executives: how to set aside the time to "think". Second, it gives leaders a 4 step model for what to think about; so that they optimize whatever think time they have: even if it is only an hour.
---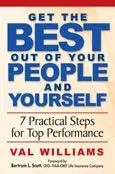 GET THE BEST OUT OF YOUR PEOPLE AND YOURSELF
7 PRACTICAL STEPS TO TOP PERFORMANCE
---
This book gives 7 practical steps for leaders and executives who want to see top performance from the staff. The handbook gives excellent, practical instructions on delegation, giving feedback, performance management, and coaching your people. 100 pages.
---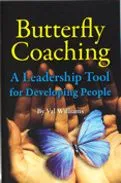 BUTTERFLY COACHING
A LEADERSHIP TOOL FOR DEVELOPING PEOPLE
---
Developing people is the key to a successful organization and achieving results. So why is it often difficult to help people develop and evolve? This book offers a three-step model and tool for effectively developing people and creating lasting individual and organizational change. You'll discover why the usual methods of advising and helping don't work, as well as the more effective alternatives.
---